In the software industry, we'd be calling this a "beta" test. But that seems fairly impersonal for this very personal story of Lucille Maris. In this new online course, she shares about life as a young bride during World War 2 and what it was like in the United States during the 1940s. The name of the 11-video self-study course is:  World War 2 History:  A View of the USA Home Front.
If you are intrigued to learn more about World War 2 and life in the USA during that time, or if you are homeschooling your children and would like for them to have a better understanding of that time in our history, you will find the material in this course fascinating.
Become a Course Champion
I'm extending an invitation to you to be one of my Course Champions. As a Course Champion, you can enroll in one of the 50 seats available in this early access phase and begin to view the content of the course as I upload it throughout the next few weeks. I'm offering the course at half price through May 31, 2015, for anyone who would like to be one of my Course Champions.
Note:  This offer is no longer available. The course design is completed and it's live in Udemy. Hope you'll come over to that learning platform and sign up for this very interesting journey through the 1930s and 1940s!]
To Register:  World War 2 Home Front History course in Udemy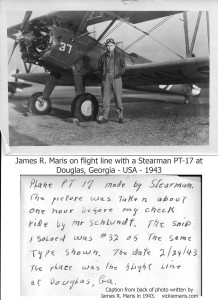 Background on the Course, World War 2 History:  A View of the USA Home Front
For this course, I interviewed my 93-year-old mom, Lucille Maris, about her experiences as a young bride while my dad, Jim, was in flight training and then in combat flying B-24 bombers out of England. My hope is that my mom and I can create an FAQ video lesson to add to the course that addresses the questions you ask as Course Champions.
That is the primary reason I've opened the course even prior to all of the content being uploaded. The videos and many digitized photos like the ones you see here, along with letters, receipts, telegrams and other memorabilia are being uploaded daily over the next few weeks.
I'll do another blog post in the future to summarize the results of the efforts of the Course Champions. At that point, the course will move to its full retail price.
If you'd like to be one of my Course Champions in this course, I'd be delighted to have you come along for the experience. We can learn together! Note:  The opportunity to be a Course Champion for this particular course has ended.
To Register:  WW2 History course in Udemy
If you're interested in creating your own courses, I invite you to follow me over at my other website, www.vickiemaris.com, where I blog on a regular basis about course design and elearning.